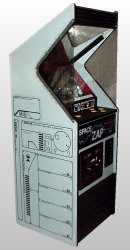 Space Zap is one of the two games I always wanted to own (the other one was Tempest). The first time I played this game was on a high school field trip to Bucks County, PA. The game-play was simplistic and the action was fast. Perhaps it's because I'm a drummer, but I was able to slam those buttons as fast as the machine could throw enemies at me. I instantly fell in love with the game.
The Next time I played was several years later when I was a freshman in college. My room-mate and I would go to the local arcade and play. I could play this game forever on a single quarter. The game play would get so fast that my hands would just become a blur.
I was searching for this game for years when I came across one by accident. I was looking for the game Ice Cold Beer (see Zeke's Peak) for a friend when I discovered Jim at GameMasters. Jim is an operator in Louisiana who claims to have over 1200 games in his inventory. Not only did Jim have the Ice Cold Beer and a Zeke's Peak, when I asked him if he had ever heard of Space Zap he said that he had one in his inventory that was in "10-10-10" condition but it didn't work.
*** MINE! ***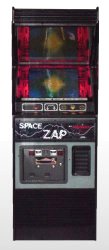 After a successful transaction for the ICB and the ZP, I had Jim send me the Space Zap. The machine was pretty much as described - it was in good condition and as dead as a door nail. I've learned that Jim is a little over-ambitious in his rating of machines, and the Space Zap wasn't truly a "10". It was, however, a solid "9" and I was fully satisfied.
After an initial, unsuccessful attempt to get it to work, this game just ended up sitting in my garage, dead, for almost two years. This, however, did do a couple of things for me. First, it gave me an opportunity to better my trouble shooting skills, and second, this gave me the opportunity to amass many spare parts. In fact, during this time I purchased the innards of two more Space Zaps just to have in case I needed them. And I did.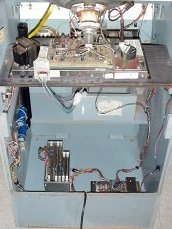 When I finally got back around to working on this machine I realized I had a lot of work ahead of me. The original power supply had been hacked out and a switcher was installed. I've become sort of a purist and prefer to have my machines running using the electronics that they were originally designed with. Fortunately I had a spare, complete, un-hacked wiring harness which I installed. I then put in an original transformer and linear power supply board and got that all working. You can't get anywhere without good power.
Next was to get a working boardset. This machine uses a card-cage that contains 5 boards. The problem is that when the boards are in the cage it is impossible to get any test equipment into the cage to determine the cause of any faults. I instead chose to cycle through the 3 sets of Space Zap boards I had to try to get a working combination. I also had a complete card-cage from a Wizard of Wor which shares several of the same boards to try as well. After many combinations I struck upon a working set. From there I was able to cycle in all of the remaining boards to determined which ones worked and which ones did not. I ended up with 2 complete, working boardsets and several additional spare boards.
So with the game working it was time to do the cosmetic restoration. Since this was one of the games I started collecting for, I decided to really do it right. All I kept saying, however, was that for a game that was suppose to be a 10-10-10 I had to do an awful lot of work to make it look good!
First, I completely emptied the cabinet of all parts, wires and hardware and scrubbed it down clean. I then color matched the paint and touched up any scratches and then installed new, leather-finished T-molding.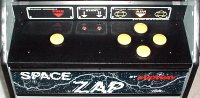 Next, I disassembled the control panel, stripped it down to bare metal and refinished the surface with a beautiful textured black paint. All of the buttons were cleaned, buffed and rebuilt for perfect action. I then painted the coin door with a dark gray hammer-finish paint, polished the chrome and installed credit switches behind the coin rejectors. I then painted all of the remaining metal hardware and bolts a smooth, satin black.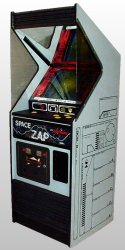 The cabinet has plexiglass side panels, and these panels have a geometric pattern etched into them. I carefully buffed and polished these so as not to damage the artwork but to still make them shine. I then installed them with large, polished brass rivets.
The finishing touch to this game is the marquee. Unlike most other video games (which use a fluorescent lamp behind the marquee), Space Zap uses 5 miniature flashing bulbs. These bulbs illuminate in random patterns making the lightning bolt image on the marquee flash and flicker. It is really a neat effect.
After not playing this game for nearly twenty years it turned out that I still loved it. It is absolutely beautiful and now holds a permanent place in my collection.